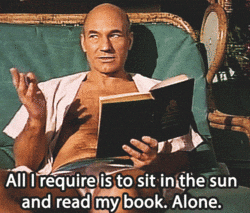 I forgot to do one of these posts in May, so better late than never! I'm five books, almost six into July, so reading is going great, watching has kind of trickled off. This tends to happen to me, and is probably pretty relatable. I go through cycles of watching everything and reading nothing, but on the flip side, there are times where I read everything and watch nothing – there is rarely an in-between. I have a lot of reading I need to get done, so I'm kind of okay with not really having a show to sit and binge.
Anyways – here's what I'm reading and watching!
---
BOOKS:
The Girl the Sea Gave Back – Adrienne Young
I'm about 84% into this book and I had no idea that this was a sequel/companion to Sky in the Deep. I just thought it was a new fantasy by the same author. I'm definitely interested in reading the first book, but this one is proving to be kind of a let-down, unfortunately. I won't go into too much detail since I'll have a full review of this up shortly, but I'm not connecting with the characters or the story.
Little Fires Everywhere – Celeste Ng
I don't want to read this book. I wouldn't have picked this book up in the store. It's my book club's choice so I'm trying to force my way through it. I don't really care for the writing style or the story in general. As of right now, it's saving grace is that it's just over 300 pages, so I should be able to knock it out pretty quickly if I can just sit down long enough to read it.
Becoming the Dark Prince – Kerri Maniscalco
I legit just finished this, so I'm including it. A Thomas Cresswell novella published on my birthday…happy birthday to me! I really enjoyed this all too brief look into Cresswell's mind. I could read the entire series from his point of view. Though, this did remind me of my rage towards Wadsworth in Escaping from Houdini which wasn't necessarily fun, but I'm super excited for Capturing the Devil and September is so far away.
---
SHOWS:
Glee (Netflix)
I just finished this last night, so it's going in this post. I never actually watched it through to the end when it was airing so this was part rewatch/watch for the first time. I really enjoyed the end of the show, thought it wrapped up in a satisfying way. I'm going to kind of miss watching it every night.
The Expanse (Prime)
I'm like episodes away from finishing this show, and just need to sit down and do it, but meh. I like the show, don't get me wrong, but I took a break and now I'm not that invested anymore.
The 100 (Live TV)
This. Show. I hate waiting each week. I love the show and the characters, and it really is the perfect binge show to get lost in. With this current season, it's even harder to wait because so much is happening. Also, holy slow burn relationship between Bellamy and Clarke. I don't know if they're endgame in the show, but dammit, I wish they would kiss at least ONE TIME.
---
QOTD: What are you currently reading and/or watching?