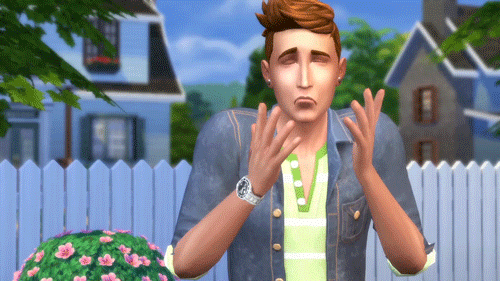 I'm in a slump so this is going to be short. In the last week and a half, I have spent more time watching Netflix and playing Sims4 instead of reading. Nothing is holding my interest. I keep picking up books only to put them down not even 50 pages in.
It's like I posted my ambitious end of the year TBR and all desire to read went out the window. And I know it's bad when even shows aren't working as a distraction. Sims seems to be working, since I don't actually play Sims but just create new characters and build them houses – yes, that's about all I do. The only problem with playing Sims again, is that I want to spend all my money on the different expansion packs and stuff packs and game packs, and I can't right now. I want them all.
Sigh.
---
BOOKS:
The Light at the Bottom of the World – London Shah
I couldn't get into this. Whether it's solely because of this slump or if it's because it sounds super similar to another book, I read a handful of years ago, I'm not entirely sure. I've heard nothing but good things, but the fact that this feels very familiar and I'm in a slump, doesn't bode well for potentially finishing this book. Fall releases have been really letting me down lately, and I'm kind of tired DNFing everything I start.
Gravemaidens – Kelly Coon
Okay, I'm starting this one tonight, and I'm trying to clear my mind so I can go in open. I'm going to forcibly ignore my slump and try to get hooked. A friend told me something vague and non-spoilery about this book, so I'm hoping the interest I have in finding out what she was referring to is enough to keep my interest.
---
SHOWS:
Grey's Anatomy (Netflix)
This is my third rewatch – don't judge. I'm such trash for this show it's ridiculous. Mainly I just put it on for background noise while I'm playing Sims. I just passed the Izzy+Denny plot line – which I HATE. And I'm super not a fan of Cristina and Burke's relationship. I'm also not much of an Izzy or Cristina fan. And since Alex has become my favorite character on the show due to the newer seasons, he's so hard to hate now.
The Walking Dead (Live TV)
So far this season has been kind of 'meh' but give me more Negan. He's become my favorite part of the show, and he's not on nearly often enough.
Supernatural (Live TV)
This is the final season, which is super bitter-sweet but so far, I've really enjoyed it! I'm excited to see where the show is going to go this season!