This is it.
We're down to the wire.
It's hard to believe that another NaNo is just about wrapping up. Today's post isn't going to be very long – and I'm going to be spending most of the day writing. I wasn't able to get in as many words yesterday, with it being Thanksgiving and all, so I have a little bit of catching up to do. \. Nothing too major, just about 800 words – no biggie. Hopefully I'll be able to finish this trash draft tomorrow.
That's my goal. To get words on the page and just finish this draft.
I'm sitting around 47000 words, so I'm really not hurting. I tried creating an outline for this story – really, I was procrastinating actually writing, and wanted to fill up some words. So, I created this rough outline, leaving a lot blank. I knew I wanted a cutesy hot tub scene between Cassie and Chase. A scene where they almost kiss, but not quite. I legit wrote that in my outline and then promptly went to write the scene.
And guess what I did.
Well, I should say, guess what the characters did, because I stopped controlling them a long time ago. They're writing themselves at this point. I've been sidelined and I'm just watching.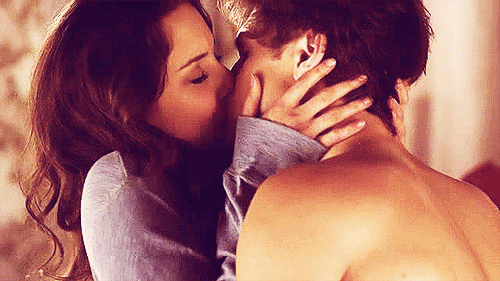 Cassie and Chase kissed.
Sorry, spoiler. But they freaking kissed.
And not only did they kiss – they kissed twice. They weren't supposed to kiss at all!
I give up lol.
I've been writing this book all sorts of out of order, making the draft an absolute mess, but I've been hitting writing strides and just going with them. I have to write it all wrong before I can write it right.
My characters are continuing to surprise me. Cassie is super bold now that she's moving past her sadness and anger. Chase is still goofy, but completely in love with Cassie and it's adorable. Ryan is actually an absolute ass (completely different than how I intended him to be) and he's super hard to write. Layne – who I never wanted to like – is being nice to Cassie after making her life a living hell. Not pretend nice, but genuinely nice and friendly and I don't know what's happening.
Also, for these four characters being in a house full of people, you never see any of the other occupants – something I need to address and fix in draft 2.
I'm glad that this draft is a mess. I might complain about it and my characters, but I really do have a better sense of what the story is supposed to be, what needs to happen, what I want to happen and who the characters are. I had this pretty idyllic idea in my head of what this book was supposed to be – a cute fluffy romcom – and it still is, but it has some heavier undertones to it. While I like the heavier undertones, I kind of want to try and write it without them – though I have a feeling that doing that is going to be really hard…seeing as how Cassie nearly drowns.
Anyways, I'm going to end this here. I'm exhausted, full of amazing food and maybe a bit too much wine and I'm going to just relax and enjoy the evening. Maybe do a bit of shopping out and about with a friend, and then when I come home, eat some home made apple pie! I hope everyone had a wonderful Thanksgiving with lots of good food and plenty of leftovers. And those of you who are still cracking away at NaNo, you go this, we got this. Today and Tomorrow. And then we can take a break! So good luck!