Title: Conceal, Don't Feel (Twisted Tale #7)
Author: Jen Calonita
Pub. Date: October 1, 2019
Rating: ⭐️⭐️⭐️
---
What if Anna and Elsa never knew each other?
When a magical accident erases Anna and Elsa's memories not only of magic, but of each other the sisters are separated for protection. But when Elsa unexpectedly finds herself as a young queen mysterious magic begins to happen and questions of her past start to form. Will the sisters ever be reunited?
---
This will be a spoiler free review.
Not going to lie – I was excited for this book. I was excited prior to watching Frozen 2, but after watching that movie, listening to the soundtrack and re-watching Frozen for the hundredth time…needless to say I was really excited. I dove into it early last night and stayed up finishing it.
Unfortunately, I was unimpressed. Very unimpressed. Other than like two instances, I don't think anything was really added to the backstory of the characters – namely Kristoff. This book also reads differently having seen Frozen 2 – I have questions. The writing also felt stiff and bland and the magic that's in the movie didn't translate. Writing the lyrics to "let it go" conversationally does not work. It just doesn't.
As for the "twisted" aspect – I didn't really get it? I felt like a lot of the magic and charm of the characters were lost. Separating the sisters isn't really twisted…because they're separated in the original movie as well. Maybe not by such great distances, but there's definitely a chasm between Elsa and Anna.
I should also probably mention that I'm more of an Anna fan and for the life of me, I don't get her unwavering loyalty to her sister. Movie Elsa was like straight up horrible to Anna, isolating her and treating her like crap. Yes, I get that Elsa was dealing with shit, and their parents did not help things, but damn. I just don't get the unwavering loyalty when Anna has literally been held captive for years. Resentment? Where you at? I find the fact that Anna has zero towards her sister very unrealistic.
Now, in this book Anna and Elsa are still very much their movie counterparts, but they swap some of each other's movie roles in this book and I don't think any of them really worked. Again, the magic was lost in my opinion. I don't think this book took enough risks or added enough to the world and the characters to make it stand out.
And don't even get me started about Hans. He's just as annoying, stupid and manipulative in this. Same with the Duke of Weselton. Ugh, I feel like with these two characters, we really could have gone into the "twisted part". Yeah, the tag line on this book sounds fantastic, but overall, it's really just the plot of Frozen, just on a more drastic scale. To me, 'twisted' could've had and Evil Elsa, or an eviler Hans, or hell, and Evil Anna. Maybe the book should have gone a more 'Snow Queen' route and been truer to the fairy tale.
Also, Elsa's transformation on the North Mountain and the building of her castle, just doesn't translate well without "Let it Go."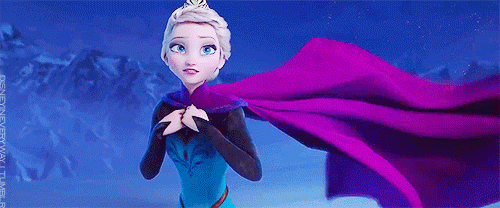 I think my favorite part is Kristoff. We get a little more look into who he is – since we don't get much of that in the movie, unfortunately. Though, I'm a little annoyed that we didn't get the full scene of him running across the fjord to save Anna before she saves Elsa – not a spoiler, it happens in the movie. That scene in the movie is one of my faves and it gives me chills every time. I will say that some of the brilliant lines between Kristoff and Anna that happen in the movie are lost due to the swapping of scenes/roles with Elsa and the overall plot.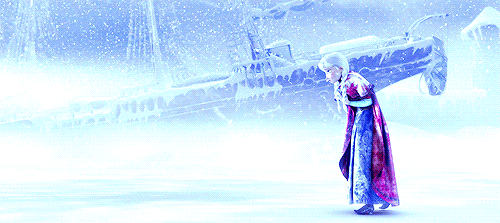 This is only my second Twisted Tale book, my first one being Part of Your World (you can read my review here) but I don't remember it reading so stiff and bland. I know I mentioned that earlier, but it really kind of felt like this book was written for a younger audience. Not that, that isn't a bad thing, but the way it was written left a lot to be desired and I kind of felt like I was reading something that had been dumbed down for comprehension purposes? It made it a fast read, but it just read weird. I wasn't a fan. At this point, if you don't know the plot to Frozen, you must be living under a rock, and I highly doubt any kid/teen/adult who is going to pick this is up, is going to need a refresher. This book really was just like the movie, and I kind of wish it had been a little more of a unique take on Frozen.
Overall, I was disappointed, and felt like it was lacking magic and uniqueness. It was a fun read and I enjoyed the Anna and Kristoff scenes. If you're a Frozen fan, if you can't get Frozen 2 and it's amazing songs out of your head, and you're biding time before you can go see it in theaters again, then you should maybe pick this up.