With Christmas being about a week away (and after posting nothing but reviews last week) I thought I'd start this week off with a Holiday Themed Post – and what better than a Christmas Book Tag. I found this on Literary Leisha while scrolling through my Reader Feed on WordPress and I loved it! I thought the questions were cute and I really wanted to answer them myself. The original creator of the tag was GirlReading over on BookTube, so make sure you check out the video!
With that being said, let's jump into these questions!
A fictional family you would like the spend Christmas Dinner with.
The Weaselys, hands down. They kind of remind me of my extended family, and a little Christmas Chaos and fun is always a good thing.
A bookish item you would like to receive as a gift.
Books or book sleeves. Honestly, I have a problem.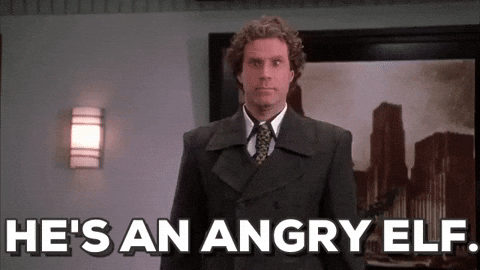 A fictional character you think would make a perfect Christmas elf.
Is it weird that I can see Rhysand completely doing this and getting into the character? Or Rowan, but he might be a bit grumpy.
Match a book to its perfect Christmas song.
Legitimately every Christmas song and book I know/have read has just disappeared from my mind. Except for Baby, It's Cold Outside…but I don't know a book to pair it with.
Bah Humbug. A book or fictional characters you've been disappointed in and should be put on the naughty list.
Queen of Nothing.
Only because it's the first one that comes to mind, but honestly, there are a bunch more that came out this past fall alone that should be on the naughty list.
A book or a fictional character you think deserves more love and appreciation and deserves to be put on the nice list.
I don't know if I'd go as far as the nice list, at least not for Christmas 2019, but Rhen from A Curse so Dark and Lonely/A Heart so Fierce and Broken. He's made some choices…or will make choices once the book actually hits shelves in January, but I can't hate him. I think he's going to get a lot of hate after AHSFAB comes out, and he just needs some love.
Red, Gold and Green. A book cover that has a wonderfully Christmassy feel to it.
Umm, A Heart so Fierce and Broken – it's basically solid green. But also, Echo North kind of feels a bit festive.

A book or series you love so much you want everyone to find under their Christmas tree this year so they can read it and love it too.
The Air Awakens series (and all subsequent books set in that world) …everyone should read them because they are so good!
Feel free to tag yourself if you want to share a bit of Holiday/Christmas cheer on your blog! I'm definitely interested in reading your answers if you do end up doing this tag. I hope everyone's Holiday season is wonderful, fun and full of memory making moments!